Chairs

Every desk needs a chair. In the days of scientific management, the chair that went with the clerk's desk had to keep the employee working at maximum productivity. And since clerks were discouraged from leaving their desks, the chair had to keep them sitting. The best-designed chair for desk work was the swivel-based with a wooden saddle seat and slatted wooden back with armrests, based on physiological studies of human anatomy. Many models had adjustable knobs and levers to make the chair fit its occupant. This was the beginning of office ergonomics--the study of design as it relates to human comfort and function. Ergonomics would become a thriving architectural design business in the mid-1970s.

The chair has always been a status symbol in the office. Just as kings sat in thrones and no one else did, employers sat in armchairs while their clerks sat on stools. For all of the sensible comfort of the swivel chair, cane-seated straightbacks implied status in the 1880s. But when the typist's chair evolved into the cushioned armless versions in today's offices, the executive's chair took on kingly dimensions with closed arms, wide seats, and the tallest backrest.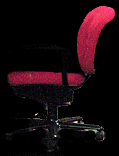 By the 1950s, backrest height and seat size indicated job rank. Just as the bigger the desk the more prestigious the job, the more comfortable-looking the chair was, the higher up the organizational chart was the person who sat in it. There are probably few more powerful symbols in the office and contemporary life than the chair.