Catalog Information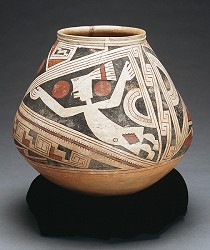 Ceramic Jar, Casas Grandes. Purchased by the Archaeological Society of Washington and loaned to the Department of Anthropology, National Museum of Natural History, Smithsonian Institution, cat. no. A323868, acc. no. 00067785.
Dimensions: 9.5 in. (height) x 4.5 in. (aperture diameter).
Technique: Coiled pottery. Chihuahuan polychrome jar with a white slip on the exterior (excluding the base) and painted with black and red mineral paint.
Design: The ceramic type is Villa Ahumada. The jar is divided in two parts, each with a male figure in a reaching pose. The figures are wearing headdresses and kilts with different designs. The rest of the design is filled in with motifs typical of Chihuahuan polychrome pottery, including interlocking steps, triangles, circles and hooked motifs.