Catalog Information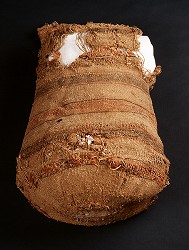 Bag, Basketmaker, 100BC–AD400. Collected by Samuel J. Guernsey in 1920 from an archaeological site in Adugegi Canyon (Marsh Pass Region), Navajo County, Arizona. Acquired by the Smithsonian in an exchange with the Peabody Museum, Harvard University in 1930. Department of Anthropology, National Museum of Natural History, Smithsonian Institution, cat. no. A349222, acc. no. 00108499.
Dimensions: 17 in. (length) x 11 in. (base diameter)
Technique: A weft-twined bag repaired with a leather patch on the base and plant fiber twine in other places.
Fibers: 2-ply plant fiber (probably yucca), Z-spin, Z-twist.
Design: Alternating black stripes outlined in red and red stripes outlined in black. Seven stripes are visible.
Comments: Very worn in places, especially near the top.