Catalog Information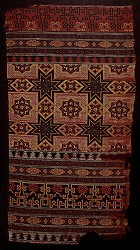 Fabric, Hispano-Moresque, 15th century, Spain, probably Granada. Gift of J.P. Morgan. Cooper-Hewitt, National Design Museum, Smithsonian Institution, cat. no. 1902-1-304.
Dimensions: 13.5 in. x 25 in.
Technique: The background weave is twill with the red silk main warps passing over three and under one orange-red main wefts. The secondary wefts form the design and are floated out on the surface of the fabric where needed for the design and tied down in loose tabby in the same fashion where they are not needed for the design.
Fibers: Warps = 1 main warp of red silk; 1 secondary warp of orange-red silk used for tying down the secondary wefts. Wefts = 1 main weft of orange-red silk; 1 secondary weft of yellow, white, green, red, medium, blue, and very dark blue silk.
Design: Red twill background with horizontal bands, in yellow, white, green, red, medium, and dark blue. White central bands of tile-like ornament, flanked top and bottom by narrow bands of arabesques, tree-like forms, and geometric knot-work. Beyond these narrow bands is a broader band of pseudo-Arabic inscription: "And success and prosperity," "Beatitude." Both inscriptions are written normally and in reverse; "Beatitude" is repeated. The same pattern is repeated at the top with fewer bands.