Catalog Information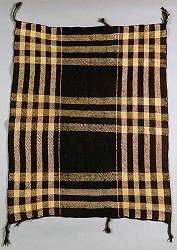 Jerga, Zuni. Collected by John Wesley Powell, probably at Zuni, New Mexico, ca. 1872. Department of Anthropology, National Museum of Natural History, Smithsonian Institution, cat. no. E011166, acc. no. 00002357.
Dimensions: 29 in. (warp) x 36 in. (weft).
Technique: Diagonal twill weave (2 x 2).
Thread count: Warp = 23/in.; Weft = 18/in.
Fibers: Warp and weft = 1-ply handspun wool yarn, natural brown and cream, Z-spin. Selvage: 3-strand, 2-ply handspun wool yarn, natural brown, Z-spin, S-twist. Medial tassles a third of the way up from the bottom, braided for about 2 inches. Corners = warp and weft selvages are knotted separately; on three corners the selvages are then braided together for about 2.5 inches while the fourth corner is open. One corner also has a doubled strand of indigo-dyed handspun wool braided in.
Design: Plaid twill design.