Catalog Information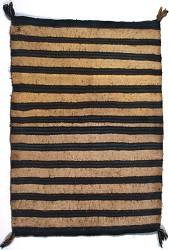 Blanket, Hopi. Collected by John Wesley Powell and O. D. Wheeler in the Hopi area of northeastern Arizona in 1876. Department of Anthropology, National Museum of Natural History, Smithsonian Institution, cat. no. E023160, acc. no. 76A00060.
Dimensions: 44 in. (warp) x 31 in. (weft).
Technique: Plain tapestry weave.
Thread count: Warp = 8/in.; Weft = 30/in.
Fibers: Warp = 1-ply handspun wool yarn, natural brown, Z-spin. Weft = 1-ply handspun wool yarn, natural cream and brown-black, Z-spin; and 1- and 2-strand indigo-dyed (?) light blue handspun wool yarn, Z-spin. Selvage = 2-strand, 2-ply handspun wool yarn, natural cream on sides, light blue on ends; Z-spin, S-twist. Corners = warp and weft selvages are knotted separately; two corners are augmented with white strands, two with blue strands.
Design: White ground decorated with a series of narrow compound stripe zones, each consisting of three narrow brown stripes separated by two blue stripes, except at ends where color scheme is reversed.