Catalog Information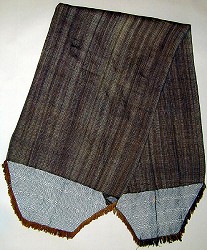 Shawl, Hispanic. Collected by Edward Palmer in Mexico. Acquired by the Smithsonian in 1891. Department of Anthropology, National Museum of Natural History, Smithsonian Institution, cat. no. E152700, acc. no. 00024600.
Dimensions: 82 in.(warp without fringe) x 30 in. (weft); fringe = 13 in.
Technique: Warp-faced plain weave, ikat dyed warps.
Thread count: Warp = 56/in. Weft = 20/in.
Fibers: Fine commercial cotton yarn, white and ikat-dyed blue and brown.
Design: Blue, brown, and white stripes with net-like ends. A brown fringe, made from warp yarns, is sewn on each end.