Catalog Information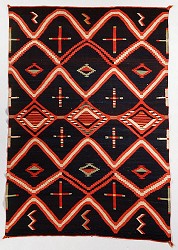 Blanket, Navajo. Purchased from an unnamed Ute chief by Matilda Coxe Stevenson, probably in Colorado in 1873. Department of Anthropology, National Museum of Natural History, Smithsonian Institution, cat. no. E220194, acc. no. 00041372.
Dimensions: 78 in. (warp); 54 in. (weft).
Technique: Plain tapestry weave with a few, carefully concealed lazy lines.
Thread count: Warp = 8/in; Weft = 42/in. (handspun yarn) and 48/in. (4-ply commercial yarn).
Fibers: Warp = 1-ply handspun wool yarn, natural white, Z-spin. Weft = 1-ply handspun wool yarn, natural cream and dark brown, vegetal-dyed yellow-green and and dark blue (indigo), Z-spin; 4-ply raveled commerical wool yarn, synthetic-dyed (?) scarlet, S-spin, Z-twist; and 4-ply commercial wool yarn, synthetic-dyed scarlet, green, and gold, Z-spin, S-twist. Selvage = end and edge selvages are respun commercial wool (flannel) yarn, synthetic-dyed (?) pinkish crimson, Z-spin, S-twist. The yarn in the end selvages is 2-ply, that in the edge selvages 3-ply.
Design: "Moki" pattern sarape with a very narrow, alternating blue and brown stripe background. A row of concentric diamonds in solid and broken striped terraced lines extends across the center. To either side, a web of open, terraced diamonds is developed, framing polychrome lightning, cross, and terraced diamond designs.