Catalog Information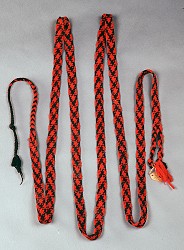 Strap, Mohave. Colorado River Reservation, Arizona. Collected by Alex Hrdlicka in 1908. Department of Anthropology, National Museum of Natural History, Smithsonian Institution, cat. no. E253078, acc. no. 00049349.
Dimensions: 114 in. x 5/8 in.
Technique: Interlaced with a tassel at one end and two tassels at the other end.
Fibers: 4-ply commercial wool yarn, red and black, S-twist, Z-spin.
Design: Repeating diamonds in black on a red background.