Catalog Information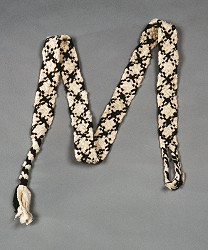 Strap, Mohave. Collected in 1911 in Arizona by J. P. Harrington. Acquired by the Smithsonian in 1913. Department of Anthropology, National Museum of Natural History, Smithsonian Institution, cat. no. E277983, acc. no. 00055570.
Dimensions: 49 in. x 1.5 in.
Technique: Oblique interlaced (braided). Rag weave. Tassel at one end and a loop at the other.
Fibers: White and brown strips of cotton cloth.
Design: Repeating connecting diamonds in brown on a white background. This design was apparently used for cradle straps for baby girls.