Catalog Information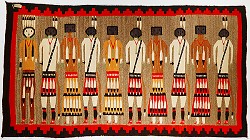 Rug, Navajo. Maker unknown. Donated in 1923 to the Smithsonian Institution by Chee Dodge of the Crystal, New Mexico, area. Department of Anthropology, National Museum of Natural History, Smithsonian Institution, cat. no. E325883, acc. no. 00070553.
Dimensions: 101 in. (warp) x 54 in. (weft).
Technique: Plain tapestry weave.
Thread count: Warp = 7/in.; Weft = 13/in.
Fibers: Warp = 1-ply, handspun wool yarn, natural white, Z-spin. Weft = 1-ply handspun wool yarn, vegetal-dyed brown, tan, off-white, dark yellow, and red, and green (synthetic dye?); Z-spin.
Design: Pictorial yeibichai. Across the center are ten human figures on a light brown background. A red and brown fret pattern frames the figures. Every other figure has a round head and a two-feather head adornment. The other figures have square heads without feather adornments. The figure on the far left is unique with a head adornment of six feathers, a white face (the other nine figures have gray faces), and different clothing.