Catalog Information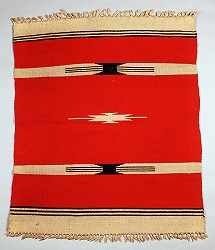 Blanket, Hispanic, early 20th century, New Mexico. Donated by Alfred C. Hawley in 1938. Department of Anthropology, National Museum of Natural History, Smithsonian Institution, cat. no. E379889, acc. no. 00150648.
Dimensions: 30.5 in. (warp) (32.5 with fringe) x 25.5 in. (weft).
Technique: Plain weave with short fringe.
Thread count: Warp = 10/in. Weft = 20/in.
Fibers: Warp = cotton twine. Weft = 3-ply wool yarn in natural white and dyed black and red, S-twist, Z-spin.
Design: Primarily a red background with a white serrated diamond for a central motif. On either side of the central motif are white bands with black auxiliary motifs. The end panels are white with 3 black stripes.