Catalog Information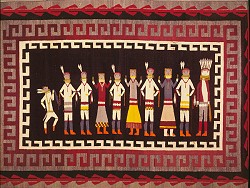 Rug, Navajo. Collection information on this rug is unavailable but it dates to the period between 1920 and 1950. It was donated by the Estate of Marjorie Merriweather Post in 1981. Department of Anthropology, National Museum of Natural History, Smithsonian Institution, cat. no. E418938, acc. no. 318782.
Dimensions: 73 in. (warp) x 50.5 in. (weft).
Technique: Plain tapestry weave.
Thread count: Warp = 12/in.; Weft = 21/in.
Fibers: Warp = 1-ply handspun wool yarn, natural white, Z-spin. Weft = 1-ply handspun wool yarn, natural white, grey, and black (possibly top dyed) wool yarn; synthetic dyed light blue, red, orange, yellow, green blue, olive, purple wool yarn, Z-spin; commercial green, yellow, tan, and blue wool yarn. Tassels at the four corners (one remaining): 2-ply, handspun wool yarn light blue, Z-spin, S-twist.
Design: Pictorial Yeibichai. Across the center are ten human figures on a brown/black background. The figure on the far right is unique with different clothing, smaller in size, and appears to be in motion (perhaps jumping). A white, red, and gray fret pattern frames the figures. A red, repeating leaf pattern with grey and light blue bands frame the entire rug.
Comment: Worn in some areas. Triangular piece of red leather in one corner with the number 50 written on it (possibly an auction tag).