Catalog Information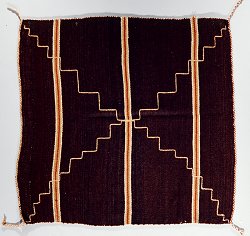 Blanket, Tarahumara. Collected by Eugene H. Boudreau between 1965 and 1987 in the Municipio de Batopilas, Chihuahua, Mexico. Department of Anthropology, National Museum of Natural History, Smithsonian Institution, cat. no. E429042, acc. no. 416144.
Dimensions: 65.5 in. (warp) x 67in. (weft).
Technique: Warp-faced plain weave with embroidered design and corner tassels.
Thread count: Warp = 10/in; Weft = 6/in.
Fibers: Warp = 1-ply handspun wool, natural brown and grey, vegetal-dyed red and yellow, Z- spin. Weft = 1-ply handspun wool, natural brown, grey, and white, Z-spin.
Design: Brown background with three white, yellow and red stripes. Two stepped lines in yellow and white cross the blanket from corner to corner.