The development of the Saltillo style was influenced by Spanish textile traditions, which in turn were influenced by Middle Eastern and Asian traditions.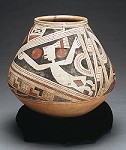 Prehispanic Mexican designs also were important. The pottery vessel on the right shows a man wearing a kilt with a serrated diamond design, a common motif of the Saltillo style. The vessel was made in the 14th century by American Indians living at Casas Grandes, in the northern Mexican state of Chihuahua.
In the 19th century, Hispanic weavers in New Mexico developed their own version of the Saltillo style, and Navajo weavers created a series of innovative designs derived from Saltillo patterns and elements. The impact of Saltillo textiles is still evident in Hispanic New Mexican and Navajo weaving, as well as that of the Mayos of northwestern Mexico.
Top: Ceramic Jar, Casas Grandes, Chihuahua, Mexico. Catalog Information