Looking at Artifacts, Thinking About History
By Steven Lubar and Kathleen Kendrick

Start | Artifacts Tell their Own Stories | Artifacts Connect People | Artifacts Mean Many Things
Artifacts Capture a Moment | Artifacts Reflect Changes | Telling Many Stories

Artifacts connect people.

A second way of using artifacts is to look beyond the artifact to see how it tells us about people. To look beyond the artifact is to find stories about the object's role in people's lives: not just who made it and who it belonged to, but also the meanings it held to different individuals and the relationships it was part of. If we look at an artifact as something that people owned and used, we can find out interesting things about people by looking at things as they are made, used, and passed on, artifacts create a web of relationships.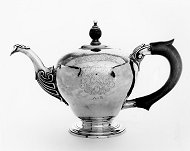 Consider the different relationships that evolved around this eighteenth-century silver teapot:
Tea Parties. In eighteenth-century America, the teapot was at the center of a social ritual that brought strangers, families, and friends closer together. Imported from Britain, the ritual of taking tea—sharing food, drink, and conversation—served to strengthen social bonds among people of all classes.

Master and Apprentices. This teapot was made by the silversmith Samuel Casey; his mark is stamped on the bottom. Like other artisans in pre-industrial America, Casey trained young apprentices in his shop. As they worked together to make this teapot, Casey and his apprentices formed a relationship based on the transfer of knowledge and skill from one generation to the next.

Craftsman and Patron. This teapot was made by Samuel Casey for Abigail Robinson, the daughter of a wealthy Rhode Island planter. The person who commissioned the teapot—probably a relative of Abigail's—may have already known Casey, or perhaps they were referred to Casey by another customer who vouched for his skills. Colonial craftsmen like Casey relied on their personal relationships with patrons to gain a trusted position in the community and achieve economic success.

Family Ties. The initials and coat of arms on this teapot relate to Abigail Robinson, the young woman for whom it was made. The teapot dates from 1752, the year Abigail married John Wanton, the son of the governor of Rhode Island. As she prepared to take a new name and begin a family of her own, this teapot provided her with a connection to her roots. Abigail died only seventeen months after her wedding, at age 22. But her teapot continued to promote family ties. Her husband remarried and in 1782 he gave the teapot to his daughter as a wedding gift. The teapot was passed down in the family until 1979, when the Smithsonian acquired it.