Catalog Information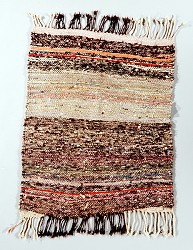 Blanket, Tarahumara. Collected by Eugene H. Boudreau around 1980 in Piedras Verdes, south of Cerocahui, Chihuahua. Department of Anthropology, National Museum of Natural History, Smithsonian Institution, cat. no. E429098, acc. no. 416144.
Dimensions: 48 in. (56 in. with fringe) (warp) x 37.5 in. (weft).
Technique: Plain weave with rag-weft cloth and wool. Fringe is braided warp with knotted ends.
Thread count: Warp = 6/in.; Weft = 10/in.
Fibers: Warp = 1-ply, natural brown and white wool yarn, Z-spin. Weft = 1-ply natural brown wool yarn, Z-spin; and slightly spun strips of commercial, mostly cotton cloth in denim, orange, red, blue, yellow, green, and pink some of which is printed.
Design: Striped in pink, white, brown, orange, and multi-color fabric. Brown wool wefts alternate with commercial cloth wefts.