This weaving reinterprets the traditional jerga. In the past, jergas were rough textiles typically used for making cheap clothing and for covering dirt floors and wrapping items for shipping.
The creator of this textile Agueda Martínez employed cotton yarn and tightly twisted strips of cotton cloth to produce a much higher quality piece than the coarse jergas of the past.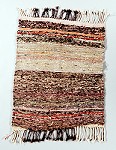 Tarahumara Rag Blanket
ca. 1980
Chihuahua, Mexico
Catalog Information


Rag textiles have been woven in many areas of the North American Southwest. The blanket shown above was made by a Tarahumara woman in northern Mexico. It combines wool, cotton yarn, and strips of cotton cloth.