Catalog Information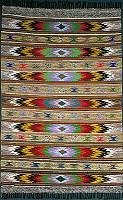 Rag Jerga, Hispanic, woven by Agueda Martínez, Medanales, New Mexico, 1994. Museum purchase. Smithsonian American Art Museum, cat. no. 1995.46.
Dimensions: 86.5 in. (warp) x 52.5 in. (weft).
Technique: Tapestry weave.
Fibers: Warp = cotton yarn. Weft = strips of cotton cloth.
Design: Horizontal multicolored bands of color alternate with larger bands of two different designs. One design is of a diamond shape in the middle with bands of color radiating out from it to the sides, the other is a band of a series of light colored diamond shapes with brighter colors between them. The tassels at the top and bottom are dark brown.