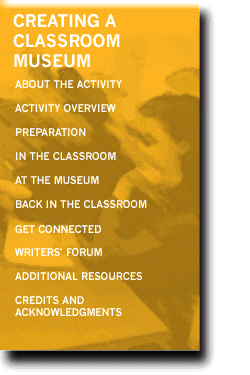 Additional Resources
Books
Atwell, Nancie, ed. Coming to Know: Writing to Learn in the Intermediate Grades. Portsmouth, N.J.: Boynton/Cook, 1989.
A set of articles written by teachers about approaches to writing in different content areas. Discusses ways to help children produce report writing that is as immediate as their personal writing. Chapter titles include "Letters to a Math Teacher" and "A Puffin is a Bird, I Think."

Calkins, Lucy McCormick, with Shelley Harwayne. Living Between the Lines. Portsmouth, N.H.: Boynton/Cook, 1990.
Written in collaboration with Teachers College Writing Project staff, this book offers new ideas for reading and writing workshops. Also discusses "notebooking," an updated version of journal writing.

Elbow, Peter. Embracing Contraries: Explorations in Learning and Teaching. New York: Oxford University Press, 1986.
A collection of essays that explore the conflicting pressures of teaching writing and how to resolve them. Discusses teachers' and students' ideas about authority, instruction, and evaluation.

Elbow, Peter. Writing Without Teachers. New York: Oxford University Press, 1973.
Elbow disputes the idea that writers compose linearly from outline to final draft. He offers another model of the composing process, beginning with free writing and ending with peer review.

Gillis, Candida. The Community as Classroom: Integrating School and Community Through Language Arts. Portsmouth, N.H.: Boynton/Cook, 1991.
This activity-filled book suggests ways that students can develop their language skills through community-based learning experiences.

Macrorie, Ken. The I-Search Paper: Revised Edition of Searching Writing. Portsmouth, N.H.: Boynton/Cook, 1988.
Macrorie shows students and teachers how to do an I-Search research project: a primary-source research method reported in a narrative style.

Moffett, James. Active Voice: A Writing Program Across the Curriculum, 2nd ed. Portsmouth, N.H.: Boynton/Cook, 1992.
The first edition of Active Voice can be credited with helping establish the process approach to teaching writing. The new edition, with student writing samples, continues to offer useful suggestions at both the writing-program and writing-topic levels.

Moffett, James, and Betty Jane Wagner. Student-Centered Language Arts, K-12, 4th ed. Portsmouth, N.H.: Boynton/Cook, 1991.
One of the most comprehensive texts on language arts teaching, this 460-page book discusses such topics as "Individualization, Interaction, Integration: Making Schooling More Effective"; "Labels and Captions: Signs, Exhibits, Maps, Charts"; and "True Stories: Writing from Recollection, Writing from Investigation."

Ponsot, Marie, and Rosemary Deen. Beat Not the Poor Desk, Writing: What to Teach, How to Teach It, and Why. Portsmouth, N.H.: Boynton/Cook, 1982.
Offers an inductive approach to teaching writing. Students develop an understanding of rhetorical structures inductively and apply them to different writing forms, especially the essay.

Routman, Regie. Invitations: Changing as Teachers and Learners K-12. Portsmouth, N.H.: Boynton/Cook, 1991.
A specific and warmly written book on the practical aspects of the whole-language classroom. Contains an extensive, annotated list of teacher resources.
World Wide Web
Museums on the Internet (http://www.museumca.org/usa/)
A great starting point for visiting museum sites around the world. Includes links to almost 400 museums and galleries in the United States as well as a hyperlinked list of cultural institutions worldwide, organized by country. Hosted by the Oakland Museum of California.

The Smithsonian Institution (http://www.si.edu)
Home page of the Smithsonian's museums and research institutes, including the National Air and Space Museum, the National Museum of American Art, the National Museum of American History, the National Museum of Natural History, and the National Portrait Gallery. For Spanish-speaking or bilingual students, check out "¡del Corazón!," an electronic magazine that offers images of Latino artwork from the National Museum of American Art as well as lessons and activities based on these works.

Yahoo! Museum and Gallery index http://dir.yahoo.com/Arts/Museums__Galleries__and_Centers/
One of the most thorough and up-to-date lists of museums and galleries around the world. If the institution that you are looking for does not appear on the list, you can search for it by name.

Other Sources of Information
Bizzell, Patricia, and Bruce Herzberg, eds. The Bedford Bibliography for Teachers of Writing. 3d ed. New York: St. Martin's Press, 1991.
An extensive bibliography of materials that the editors describe as "helpful to practicing writing teachers." Also includes a 1992 catalog of Bedford books of composition. Write to St. Martin's Press, Department GS, 175 Fifth Avenue, New York, New York 10010, or call 800-446-8923.

AskERIC (the Educational Resources Information Center) is a database of educational materials collected by the U.S. Department of Education from 1966 to the present. It consists of two sub files: Resources in Education (RIE), which offers access to current research findings, unpublished manuscripts, books, and technical reports; and Current Index to Journals in Education (CJIE), which includes 750 journals and serial publications.

Heinemann/Boynton-Cook is a leading publisher of books for English teachers. Its catalog continues to expand, including "books that extend the approach to teaching and learning in the language arts into the areas of math, science, art, music, and drama..." as well as social studies. The company publishes a separate catalog for high school and college English teachers. For more information, contact Heinemann/Boynton-Cook, 361 Hanover Street, Portsmouth, NH 03801-3959. Telephone: 800-541-2086; FAX: 800-847-0938.

The National Council of Teachers of English offers books, audiocassettes, videotapes, and position statements on all aspects of English teaching and publishes the following professional journals: Language Arts, English Journal, and College English for elementary, secondary, and college teachers respectively. It also publishes four other periodicals: Research in the Teaching of English, Teaching English in the Two-Year College, The SLATE (Support for the Learning and Teaching of English) Newsletter, and The Quarterly Review of Doublespeak. For more information contact the National Council of Teachers of English, 1111 West Kenyon Road, Urbana, IL 61801. Telephone: 800-369-6283; FAX: 217-328-9645.

The National Writing Project is a nationwide program designed to improve student writing and the teaching of writing. Offers workshops, seminars, research programs, and other opportunities. For more information contact The National Writing Project, University of California, 5511 Tolman Hall, #1670, Berkeley, CA 94720-1670. Telephone: 510-642-0963; FAX: 510-642-4545.